MINUSCA Force provides FACA elements with First Aid training in Kaga Bandoro
On 23 January 2020, in Kaga Bandoro, the Bangladesh Level II Hospital launched an 8-weeks training on First Aid and Basic Life Support program to Central Africa Army (FACA) members deployed in Sector Center, to provide them with health skills, for them to be able to take care of themselves and the population. This is a response to the request for support to build their capacities in the management of casualties and injuries in the field addressed by the detachment Commander of FACA in Kaga Bandoro, Lt Julien Ngoyete, following his visit to the hospital on 10 December 2019
The Acting Head of Office, Helder Costa, who officiated the launch of the training, thanked the leadership of Bangladesh Level II Hospital for the good initiative and told the participants that the program is part of a continuous drive to sustain their good health, in a context of MINUSCA's support to the deployment of the national army in the country. "I hope you will put all your fingers in it. This training will help you to take things in your hands once you are in the field", he said to the participants."
It is the second time this kind of training is taking place in Kaga Bandoro, as it started with the former contingent last year. The Commander pledged to continue collaborating with the FACA to ensure that they have good health, and to help them ensure the wellbeing of civilians of Kaga Bandoro. "MINUSCA is here to support you by offering health services and even health caring skills to impower you sustain yourselves in basic needs", he said.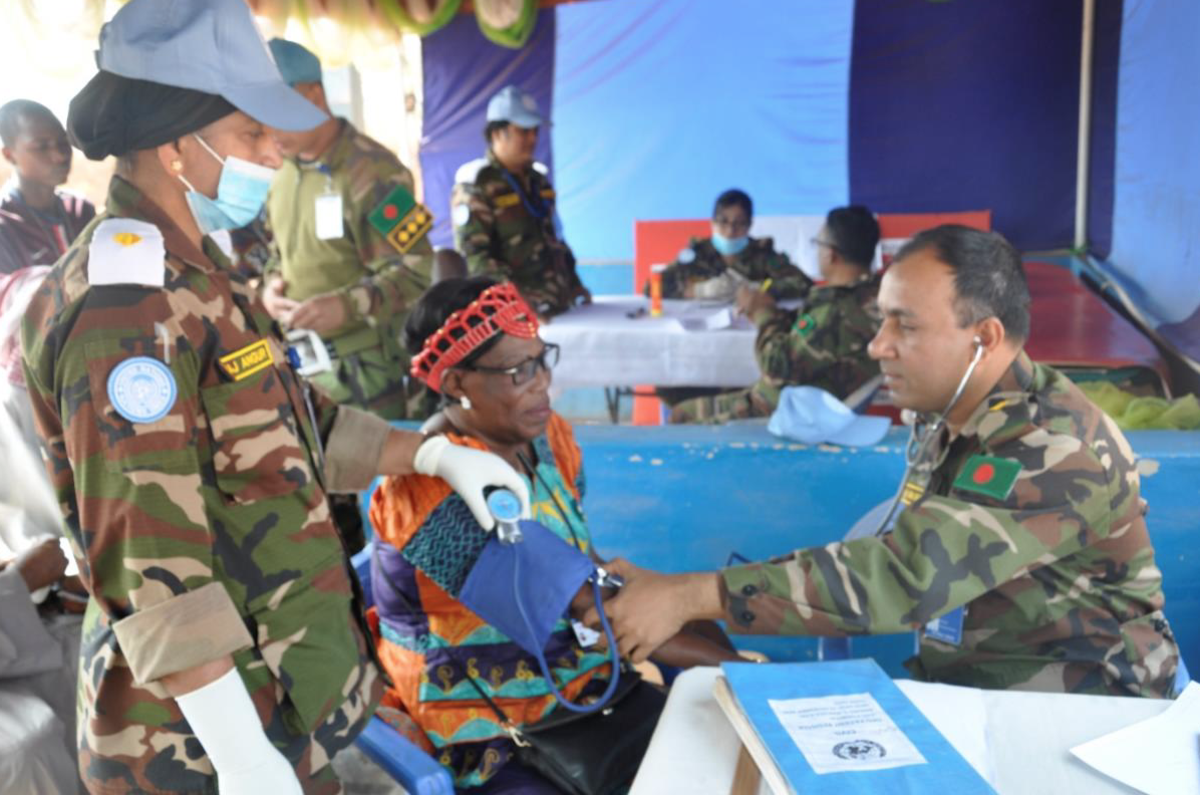 The training is meant to provide FACA soldiers with; First Aid skills, assistance given to any person suffering from either a minor or a serious illness or injury, how to take care to preserve life, initial intervention in a serious condition, treatment of minor conditions, how to manage casualties in the battlefield, among others. Basic Life Support (BLS) which is a level of medical care which used for victims of life-threatening illness or injuries until the patients are given a full medical care at the recognized hospital, is also to be dealt with.
Since December, the rate of casualties in Banmed-6 Level II Hospital keeps increasing. So this training will enable FACA members to handle some military operations eventualities or emergencies, and also take care of the population who may face the same.
Apart from its mandate, the Bangladesh Level II Hospital offers health treatment to different patients of Kaga Bandoro, including those who sustain bullet injuries from armed groups shootings and all other diseases which the District Hospital cannot afford.