Birao: Peacekeepers offer an abandoned octogenarian a new life
BIRAO, CENTRAL AFRICAN REPUBLIC – Some still call her 'Mother Delingo', others 'Mother Zambatt'. Ravaged by leprosy from a young age and neglected by her three children – 82-year-old Khamissa Ahmat has long lived alone in a ramshackle hut, scraping by on the kindness of strangers. Her fortunes changed earlier this year after she encountered the Zambian contingent that was on routine patrol in her neighbourhood.
The Zambian contingent has, since 2016, been deployed in the Central Africa Republic's northernmost town of Birao. Its Female Engagement Team (FET) which is tasked with breaking gender barriers between peacekeepers and the local population, and in particular women, discovered mama Delingo. They found her living destitute. "She had been neglected because of her condition. She was living in a dilapidated hut all by herself. After the patrol team saw her condition, they reported her case to senior leadership," recounts FET Commander Lieutenant Grace Bwalya.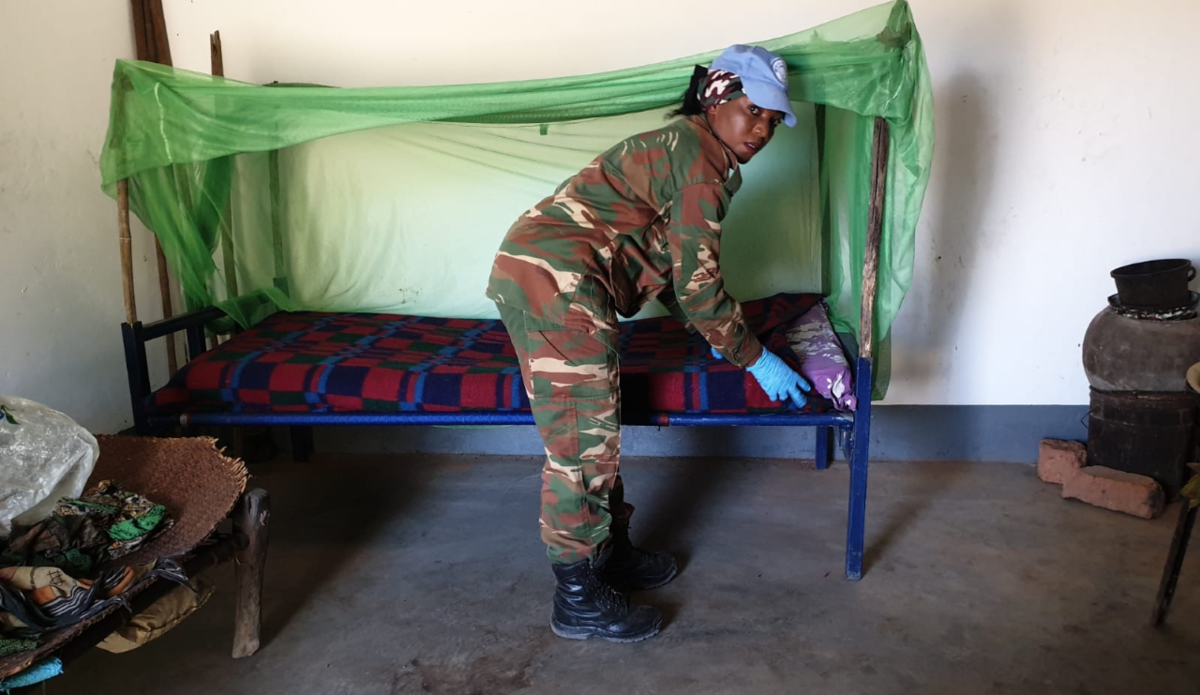 The dire conditions in which they found the old lady prompted the contingent's decision to build her a house – a neat, stand-alone building painted blue, complete with an attached latrine – to the tune of over 800,000 Central African francs. The team also regularly visits her to provide her with food, clothing and other essential items as well as check on her welfare.
Wednesday, December 11 was clean-up day – now a staple event for both the FET team and mama Delingo's calendars. The peacekeepers were once again at the home of the octogenarian they have come to affectionately call mother Zambatt. Lieutenant Grace Bwalya explains: "Looking at mama's condition, it is clear that she has limited capability to take care of her home so we organize weekly programmes to come and help her clean up." A medical team forms part of the visiting team sometimes – to conduct checkups and even treat her in the comfort of her home whenever she is sick. "It is safe to say that we have adopted her as our grandmother – she is usually referred to as mama Zambatt or mama Zambia nowadays," adds the FET commander.
Mama Zambatt is visibly overwhelmed by the care that is coming her way. She describes the generosity being extended to her as "a great gift" that is unlike anything she has known before. "Nobody has ever done anything like this for me. I was forsaken by my children, but God sent me other children. Look how they love me!" she exclaims while trying to conceal her tears.
After a life of struggle and neglect, she says she now feels protected, as evidenced on the most recent clean-up day, when armed with shovels, rakes, machetes and wheelbarrows, about a dozen of her new-found children came to clean her house and the surrounding area. While some were busy changing the sheets and mopping the house, others stormed the yard to uproot and clear away weeds. All under the watchful gaze of Mother Zambia. A couple of hours later, the house was sparkling clean and the owner of the premises unable to hide her joy.
Other members of her community in Birao are also benefiting from the Zambian contingent's presence. The woman blue helmets conduct various activities in conjunction with local women – cleaning local hospitals and markets, teaching them how to cook as well as grow and tend to vegetable gardens and holding diverse social events. The overall goal is to help advance the transition process – for the local population to go from being highly dependent on aid to self-sustenance.