Symbolic reopening of the Petevo mosque
Only a shell of the former Petevo mosque – consisting of a few outer walls, atop one of which a minaret still stands – remains on the spot where the house of worship for Muslim residents of Bangui's 6th district once stood.
Destroyed following the attack on the Notre Dame de Fatima church in the Central African capital's 3rd district on 1 May 2018, the mosque is getting a new lease of life thanks to collaboration between the MINUSCA Civil Affairs section and local administrative authorities, including the Higher Council for Islam also known as the "Conseil Supérieur Islamique" and the organization for Central African Muslim Youth or "Jeunesse Islamique Centrafricaine".
Speaking at the ceremony to mark the symbolic reopening of the mosque held on 10 April among the ruins of the former place of worship, Irene Kouassi, the interim Head of the MINUSCA Bangui Coordination Cell saluted the "spirit of social cohesion" that prevails in the 6th district, despite the challenges encountered during the crises of 2013 and 2018.
She revealed that the reopening of the Petevo mosque was preceded by more than two years of dialogue with local authorities and community members and included efforts to "shape attitudes" on the importance of religious freedom among the population.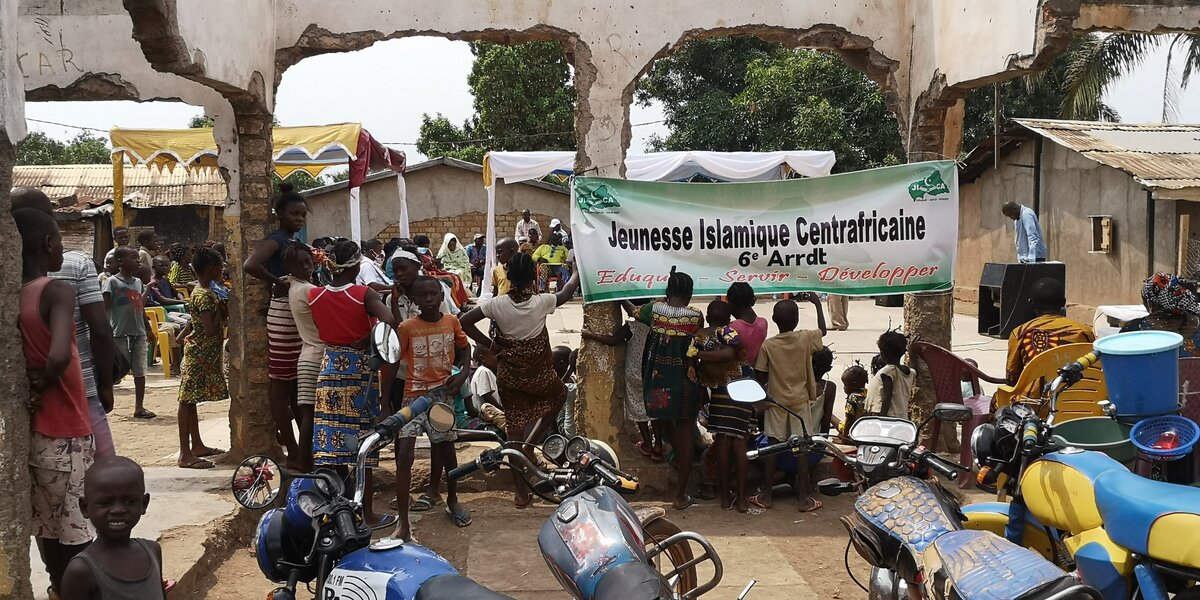 Raising awareness on respect for religious diversity also took center stage during the ceremony – as highlighted by an educational sketch on the theme performed by a theater group in front of an attentive audience.
The rekindled spirit of brotherhood also shone bright – with both Christian and Muslim prayers recited during the ceremony in addition to emphatic messages of peace and reconciliation delivered by community leaders. 
Chef Sosthene, representing the local mayor, praised the spirit of unity on display. "We the residents of the 6th district have always been exemplary. We have come together once again to give testimony to our humanity and solidarity in order to rebuild our country."
He continued: "Our neighbourhood has always been welcoming. Our different communities lived side by side before the disruptive events of recent years. Today is about rebuilding – we must continue to reflect on making sure that all citizens enjoy the right to religious freedom."
It is hoped that the symbolic reopening of the mosque will allow Muslims to pray on the site of the former mosque pending its reconstruction by local authorities. "Today is a positive step forward. The resumption of prayers in the Petevo mosque will help ease latent tensions and arouse the interest of partners to assist the Muslim community in rebuilding their place of worship," noted Irene Kouassi.
 She concluded by reiterating MINUSCA's commitment to support initiatives aimed at strengthening social cohesion in the Central African Republic.
It is worth noting that such progress has, to a great extent, been made possible by improved security in the country, thanks to the joint efforts of the Central African defence and security forces and the UN peacekeeping Mission (MINUSCA).